Tap Leakage at your home or office can lead to flooding. In order to avoid that, experts from JM Plumbers can repair your leaking taps or replace a new tap. We are experts in repairing and installing all types of taps such as steel, copper, galvanised, rubber, PVC, cast iron and plastic. Our plumber will use various tools to analyse the issue, including CCTV cameras, water jets and plumbing drain rods.
If you are bearing the problem of dripping and leaky tap and if somehow it is left unrepaired, then it could lead to property damage. Tap leakage repair at your home can lead to flooding and can create a lot of problems. You can call us for Tap leakage Repair.
What causes this damage?
Taps have a washer inside them which tends to degrade over time and with continuous use, this further allows the water to seep through the valve which in turn leads to dripping even if we properly close the water tap. We always make efforts to close it tightly, but all are efforts go in vain.
At this moment the tap repairment and replacement services by JM Plumbers come in handy.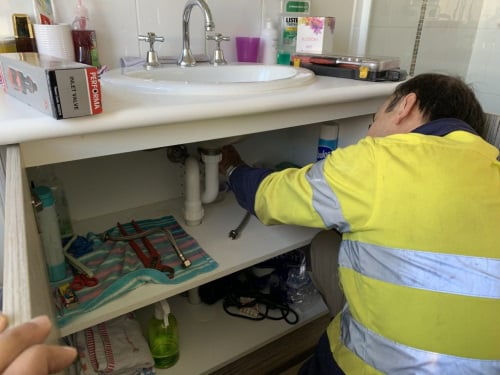 Why are JM Plumbers services best in Cranbourne Australia?
Our expert plumbers in Cranbourne are fully accredited, insured and reliable. They are committed to providing 24*7 plumbing services in this area. Our customers very well appreciate our best in class services. If you are also facing the issue of tap leakage and repairment, contact us.
Why Choose JM Plumbing And Heating Services?
Our experienced plumbers can repair and replace a variety of taps that are widely used in households like Pillar taps (rising and non-rising), Ceramic disc taps, mixer taps (where the single spout is used for hot and cold water).
Plumbers are aware of each mechanism within the tapes and can diagnose the problem quickly.
Our experienced plumbers provide quality assurance.
Our team of expert plumbers Cranbourne will provide instant solutions to all your problem related to tap leakage and repairment.
Cost-effective plumbing maintenance solutions.
Our technician can replace all tap parts that include washers, valves, heads, and handles quickly and efficiently.
Getting tap repairment and replacement services in Cranbourne is very easy now, as this is a prevalent issue in every home and offices; thus there are a lot of companies in the market that provide these types of facilities. All residential and commercial plumbing services in Cranbourne are provided at very affordable prices. We are doing bathtub tap repair, kitchen tap mixer repair and garden tap repair.